Well today we will be looking at the countdown to christmas. I have two perpetual 'Advent' or 'Christmas Countdown' Calanders. Both are quick and easy and can be decorated however you like, using whatever bits and pieces you have available.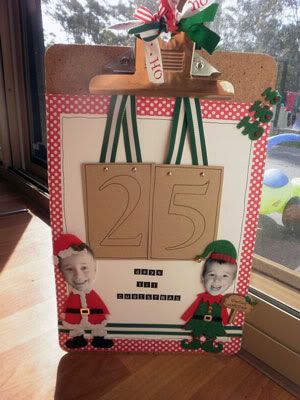 Calander One- Clipboard Countdown


Things you will need:
1 clipboard- whatever size you have, just change it to fit
1 patterned paper
2 coordinating C/S
scraps of coordinating ribbons
50cm piece of ribbon
mini letters
numbers- thickers, stamps, rubons or something to trace
spray adhesive


I am not going to use set measurments, so this can apply to any sized clipboard.


Measure and cut P/P to fit your clipboard, use spray adhesive to stick to the clipboard

The 1st C/s needs to be around 2cm smaller in length and width then the P/P. Centre this in the middle of the PP.

Use ribbon scraps to decorate the clip part of the clipboard

To make the number cards I have cut the 2nd C/S into rectangles- again choose a size that best fits your clipboard. You can either do enough cards for all the numbers or use both sides- 12 numbers all up (0,1,1,2,2,3,4,5,6,7,8,9).

For the numbers you could use thickers, stickers, rubons, or trace numbers onto the C/S

To hang the cards cut ribbon to fit your clipboard and attach to each card with brads. Each day when you need to change the numbers you just open the brad and put the next card on. Hang the cards from the clip

Add title- days until Christmas

DECORATING the clipboard. I have used pre-brought felt costumes. I got these from Kmart last year. These could be made from felt (by you clever people). Other ways would be with matching embellishments, flowers, a christmas scene. The ideas are limitless.... all up to your imagination. I would love to see some other ways from all you clever people!
Calander 2- Folded Calander

Things you will need

2 C/S 2 coordinating PP (double sided)

24 mini tags and envelopes ( i have an alternative if you dont have these)

24 matching brads

mini letters and numbers

30cm ribbon

Take 1st piece of PP. Measure, score and fold at 8cm from each end of the paper, making two 'doors'.

Meaure and cut 2nd PP- 16cm x 32sm. This will fit onto the middle section of inside the first PP

Attach 24 mini envelopes with tags onto the 2nd PP using brads (4 on each line). Attach numbers 1-24 onto the tags. You could decorate the tags as you wish- I wrote litlle sayings/qoutes for each day. You could attach mini photos, stickers or words.

VARIATION Instead of tags I cut slits into the 2nd PP/C/S and made tags to fit into them. I then added numbers and wrote qoutes to be pulled out each day.

Attach a heading- Countdown to Christmas or 24 Days til Christmas etc.

Attach this page to the middle section of the first PP

On the OUTSIDE I cut CS 27cm x 12. Then cut this in half and attched one half to each 'door'.

Decorate as you wish- I attached chipboard snowflakes to match the paper. You could use matching embellishments, flowers, hand cut a tree etc.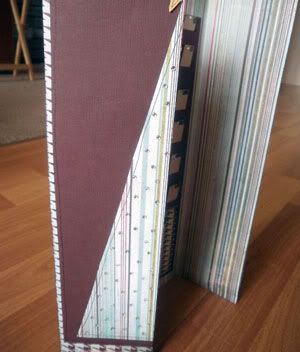 Tie with ribbon to secure closed.

Hope you all enjoy making some quick and easy Christmas decorations